In Memoriam
Six of our number have passed on, leaving us with beautiful memories of their musical presence: Doyle Faler, Carl Loosier, Michael "Mike" O'Hara, Conway Stewart, Hector (Butch) Bourg, and Charlie Sammons. All thoroughly loved the SJO and contributed greatly to it while they were among us. Those contributions cannot go unmentioned here, for without them and their unstinting support we might never have made it this far.


---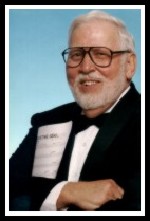 Doyle Faler-Piano
SJO TENURE: 27 YEARS.

Just one day before the SJO was to begin its 30th year, we received the news of Doyle's passing. Doyle was a native of Elk City, Kansas who came to Atlanta in 1961. He attended Philips University in Enid, Oklahoma where he played tuba in the University Band until he graduated with a BA degree in English. After arriving in Atlanta he worked for the Colonial Pipeline Company. He retired in 1992, as a computer programmer (don't ask how a degree in English translated into computer skills!) after thirty-five years of service to that company. Doyle came to the SJO, to replace our original pianist, just as we were beginning our second year. He was with us ever since. His affable good humor and frequent after-the-gig breakfasts in his mid-town high-rise apartment, are among the SJO's treasured memories. Doyle passed away peacefully at his condo, on December 11, 2004. He'll be sorely missed by all who knew him.

Doyle had left a request with his executors that the SJO play at his memorial service. This was a request that we enthusiastically fulfilled. The memorial service was not a somber affair, but a joyous affair. Two hundred of Doyle's friends neighbors, relatives and fellow band members were in attendance to tell "Doyle stories" and other memories about this affable and much loved man. It was an evening of which Doyle would have approved...and will surely be remembered by each of us who knew him.

Here's a 1986 clip of Doyle as he plays "the Count's part" of the Count Basie Orchestra arrangement of 'Moten Swing'!
---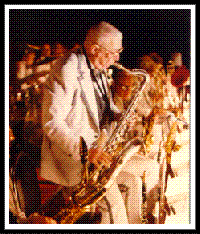 Carl Loosier - Lead Tenor
SJO TENURE: 7 YEARS

Carl, a life-long musician, was born in Decatur, Alabama, on July 20, 1925. By the time he was in his early teens his family had settled in Memphis, Tennessee. His musical skills were already then quite formidable. As a high schooler he played bassoon with the Memphis Symphony and was described by the "Commercial Appeal" as "Memphis' most promising musician." His musical career justified that early praise. He went on to play with the bands of Johnny Long, Jimmy Dorsey, and Charlie Barnett, to name just a few. He and his wife Helen and their son and three daughters moved to the Atlanta area in 1964. Carl joined the SJO in 1978 and played with us until his untimely passing in August of 1985. He used his arranging skills to arrange many tunes for us, all of which are still on our "playlist!" His good humor, musical skills and encouragement are still greatly missed by all who knew him.

Listen to the following clip (circa 1983) of Carl playing 'After You've Gone'...you'll see one of the reasons we loved him!
---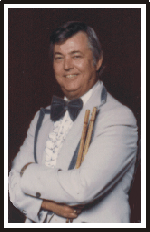 Mike O'Hara - Drums
SJO TENURE: 14 YEARS

Mike was born and raised in Tuscaloosa, Alabama. Choosing the drums as his instrument, Mike played all through high school and on into college. He attended the University of Alabama and while there played on the highly regarded Alabama Cavaliers dance band. He went to New York after graduation and became a student of the very well known Henry Adler. The changing musical scene put an end to his dreams of being a Big Band drummer, so Mike changed his career path, winding up in Public Relations. He finally retired after a 30-year stint with a financial institution as its Director of Marketing. Still in the possession of his drumming skills, and full of love for Big Bands, Mike came to us in 1978, and except for a short time, played with us until his death in 1994.

Here's Mike (in 1984) keeping us together on a difficult latin-style arrangement of 'Besame Mucho'.

---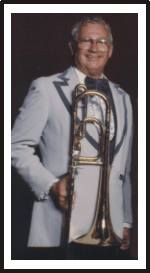 Conway Stewart - Trumpet and Trombone
SJO TENURE: 18 YEARS
Conway Stewart, a life long musician, came to the SJO when in his early sixties. He had played throughout his life, at one time or another, with nearly every group in the Atlanta area, and was well known by most local musicians. Even on the evening of his death, reports a family member, he received a call to perform at a holiday gig from someone ignorant of his passing! His musical skills were still valued! He began with the SJO in our trumpet section where he stayed for a number of years. When we found ourselves in need of a new bass trombonist...and couldn't immediately find a likely candidate...Conway stepped up and said he would fill in until we could find someone. (The trombone had been his original choice of instruments). This temporary assignment lasted for the remainder of his tenure with the SJO. Medical problems and a prolonged recovery period forced his reluctant retirement from the band. Conway will be remembered for his versatility, helpfulness and unflagging good humor. His contributions to the SJO were numerous, valuable and valued. Always quick to use his musical skills, he repaired, restored or created literally hundreds of parts. With just this one contribution he made many, many arrangements usable again. Conway, a WW II veteran, was married (Helen) and had two sons (Billy and Robert) and two daughters (Carol and Nancy). He passed away quietly on Sunday, December 7, 1997 at the age of eighty-one.


---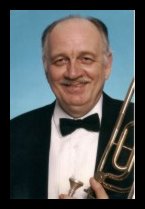 Hector L (Butch) Bourg - Trombone
SJO TENURE: 33 YEARS

Butch Bourg occupied the second bone chair for 33 years. He was the band's Librarian, Web Master and President. He was a graduate of St. Stanislaus College High School (where he was introduced to the trombone by his band director, Roy Carubba) in Bay St. Louis, MS. He played in his high school's marching band as well as its Big Band dance orchestra, "The Rocksters."

He was a proud alumnus of the University of Southern Mississippi and "The Pride of Mississippi," its legendary marching band. Butch was a commercial artist,a BFA degree from USM with majors in Commercial Art and Drawing and Painting, as well as minors in Art History and French. For most of his working life he was self employed in Atlanta as a Graphic Designer. Butch was in charge of SJO's image and did everything from designing (and painting) our music stands, our logo, our web site, our business cards and brochures and is the originator of our name as well.

Butch was closly tied to his church and sang in his church choir for more than 30 years. While with the choir, he was privileged to sing for High Mass in St. Peter's Basilica in Vatican City, St. Mark's Church, in Venice, Italy, St. John Lateran Basilica in Rome, Italy as well as during three Papal audiences. To say that Butch's passing leaves a huge hole in every facet of the bands existence is a massive understatement.
Click for Henry Mason's Eulogy for Butch

---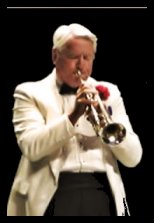 Charlie Sammons - Trumpet
SJO TENURE: 5 YEARS

A native of Atlanta, Charlie spent 41 plus years in the 530th Air Force Band of the Georgia National Guard where he was the principlal trumpet player and soloist. He appeared throughout the continental U. S. as well as Europe and Central America.

Charlie performed with many dance bands in the Atlanta area, playing both the lead and jazz books, including: the Ed Reed Big Band, the Moonlighters, the Maximums, the Jostons, the Modernaires, the Atlanta Seventeen and the Sentimental Journey Orchestra. We remember Charlie as one you would think of when the term "Southern Gentleman" was mentioned. Charlie was one of the good guys and a frequent sub with SJO prior to joining the band. He would frequently rehearse with us on the lead book even though he clearly did not not enjoy lead nearly as much as playing his beautiful jazz.

The three loves of Charlie's life were Pam, his trumpet, and the nearest Golf course, probably in that order.

In addition to his activities with the big bands, Charlie also played with many small combo groups, community orchestras and concert bands. We were very fortunate to have this talented man as part of our organization and he is much missed.

Here's Charlie (in 2006) playing on our CD recording of 'Two O'clock Jump'.
Name
Play
Size
Duration
Two O'Clock Jump
Sentimental Journey Orchestra


0.6 MB
0:36 min