Support Staff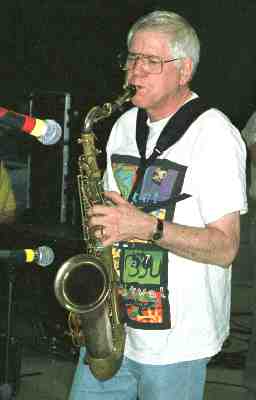 Rick Bell
SJO Rehearsal Conductor
SJO TENURE: 1978


Richard W. "Rick" Bell is the SJO's MVP! Any success we have had, any improvements we have made, any degree of group musicianship we possess is a direct result of his efforts. Since 1978 he has conducted our rehearsals with meticulous attention to detail, so meticulous in fact, that one would almost believe his name was on the front of the stands! He has been generous with his musical knowledge and expertise and patient with our faults. There is no way to adequately express his importance to us or appreciation of him except, perhaps, to perform in a manner that makes him proud of our efforts. Judging from the reaction of our audiences, it seems we may be getting close to doing it right!

Rick has been playing saxophone professionally since his high school days in Birmingham, Alabama. After high school he attended Auburn University as an art major, joined the Auburn Knights Orchestra and soon became a featured soloist. The Four Freshmen and June Christy are just two of the celebrity performers with whom Rick performed while playing with "the Knights!"

Soon after graduation Rick married Auburn Knights vocalist Dannie Sue Mackin and together they toured with the Al Belletto Sextet - Dannie as featured soloist, Rick in the saxophone chair vacated by Don Menza. After a road stint, they settled in Atlanta to begin a family, and together raised three beautiful daughters.

During his early years in Atlanta, Rick pursued a dual career of film animator (in the Audiovisual Branch of the world renown CDC - Center for Disease Control) and musician. In this period, he was active as a composer, arranger, and singer for numerous radio and television jingles. Since 1980, music has been his primary occupation, with the focus on jazz saxophone and composition. He has written for the Atlanta Singers, the Hotlanta Jazz Singers, and instrumental ensembles ranging from big bands to quartets.

Rick has been a member of many Atlanta area jazz groups, including the Atlanta Jazz Band, the Neighborhood Arts Ensemble, Ted Howe's Blue Gass Orchestra, the Yancey Korosi Quartet, the Ojeda Penn Experience, Future Reference (as co-leader), and his own quintet. As a saxophonist at E.J.'s, a former Atlanta jazz club, he had the good fortune to sit in with visiting jazz greats including Milt Jackson, Urbie Green, Clark Terry, and the late Zoot Sims. In 1988, Rick was featured with trumpeter Red Rodney at the Atlanta premier of the movie Bird. He has appeared in all the major jazz and arts festivals in Atlanta, including the Atlanta Jazz Festival, the Montreux-Atlanta International Music Festival, the National Black Arts Festival, and the Atlanta Arts Festival, as well as regional festivals including the Piccolo Spoleto Festival, the Mayport, Florida, Jazz Festival, and the W.C. Handy Music Festival in Florence, Alabama. Following his first appearance at the Handy Festival, where he performed with guitarist Mundell Lowe and others, Rick was invited to return annually as one of the resident jazz artists for that event.



The Rick Bell Quintet was among the Atlanta groups showcased at the international conference of the International Association of Jazz Educators. The quintet was also one of 12 semifinalists from more than 800 national and international entries in the 1991 Cognac Hennessey Jazz Search. Rick was a charter member of Rod Henley's Hotlanta Jazz Singers, and some of his vocal jazz arrangements are being published by the University of Northern Colorado Press. He also has a current CD available.

To Order Rick's latest CD, "War Horse and Other Stories" click on the album cover above.
To Order Rick's latest CD, "Singers and Swingers" click HERE!

---